Hiuchi A5 Wagyu Steak 200gm
Hiuchi A5 Wagyu ±200g/pack
Hiuchi ヒウチ[腿三角]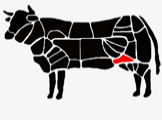 TENDER∶ ★★★ FAT∶ ★★★★
One of the subdivisions of Shintama in MOMO thigh.
This is a very rare part and the most expensive part of a
wagyu because it has the largest marble pattern and softness
in MOMO. It is well balance between lean meat and the
marble which you could taste the rich flavour in it.
Why Buy From Us?
✅ Our Wagyu meat is the best for marbling, fat and meat color, structure, and taste!
✅ Certified Halal Japanese A5 Wagyu Meat
✅ 100% Full Blood A5 Japanese Wagyu Meat
✅ Ready Supply
✅ Come in Clean and Bacteria Free Vacuum Frozen Pack